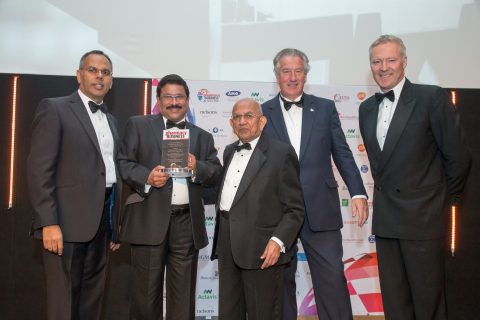 The winners of the Pharmacy Business awards have been unveiled, with Bristol Laboratories coming out as the "Fast Growth Generic Manufacturer of the Year 2016". The results were announced on 13th October at the Intercontinental O2 to an audience of pharmacy profession from community pharmacists, pharmaceutical manufacturers, wholesalers to pharmacy chains, buying groups and pharmacy politicians.
The award was presented to the Chairman and Managing Director, Mr T Ramachandran by Ramniklal Solanki CBE (Editor-in Chief, Pharmacy Business) and David Mowat MP (Parliamentary Under- Secretary of State for Community Health and Care, Department of Health).
"With the strong UK manufacturing facilities in Luton and Peterlee Bristol Laboratories has grown rapidly over the last few years. This awards reflects our growth, our dedicated teams, plus our commitment to our UK customers." commented Mr. T Ramachandran, on winning the award.
 The Pharmacy Business awards are one of the prestigious annual awards, recognising the country's very best and innovative community pharmacists.