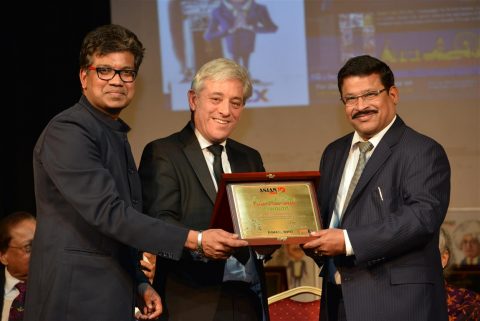 The Chairman and Managing Director of Bristol Laboratories, Mr. T Ramachandran was awarded with the Asian Lite Pranam Award at CelebrASIANS 2016. The event held at Bhartiya Vidya Bhavan in London was attended by several prominent members of the Indian community and British MPs.
The award was presented to entrepreneur Mr. Ramachandran, by the British Parliament Speaker Rt. Hon John Bercow, MP and Asian Lite editor Azeez Anasudhi.
Ramachandran grew Bristol Laboratories from a company with one person and one product in 2001, to the one which employs over 600 people across UK today. His focused strategic vision and leadership has led the company to being one of the fastest growing pharmaceutical generic company in the UK.
Pranam awards were instituted by Asian Lite newspaper to honour members of the Indian community for their contributions to British culture, economy, business, media and sport sectors.